MOOD DISORDERS
Diagnosing ADHD may be just the first step
Clinical features of ADHD could signal comorbidities such as anxiety, depression, and even bipolar disorder.1
Mood disturbances can complicate a diagnosis of ADHD
Although ADHD and mood disturbances are distinct, they often share overlapping clinical features, including changes in brain structure and function, neurotransmitter dysregulation, and genetic contributions.2
"In addition to an ADHD diagnosis, a clinician should consider a whole range of possible psychiatric conditions."1
– Dr. Laura Reale, MD, PhD, et al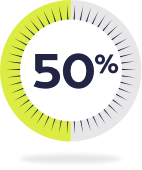 Up to 50% of pediatric patients with ADHD have a diagnosis of comorbid depression.3-5 Depression in children and teens with ADHD is typically seen after the onset of ADHD.5
Older age, severity of ADHD-related impairments, genetic factors, and negative environmental conditions have been shown to increase the risk for depression.6
Depression and ADHD in children may present with similar features—such as poor concentration and irritability—which can make effective diagnosis and treatment difficult.7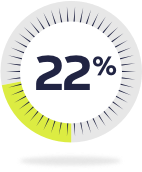 Bipolar disorder occurs at a lower comorbid rate than depression in patients with ADHD, but is still present in up to 22% of children and adolescents with the disorder.4
It is important to identify comorbid bipolar disorder or depression in pediatric ADHD patients, as these conditions increase risk for suicidal ideation.4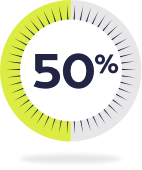 Anxiety disorders are commonly found in children with ADHD—with risk for anxiety increasing as a child grows older4,8,9
Studies have shown that up to 50% of children with ADHD suffer from anxiety. Anxiety disorder shares some common symptoms with ADHD.4,7,10
When evaluating pediatric patients with ADHD for anxiety, it is important to note the following:
Anxiety has been shown to increase the severity of ADHD symptoms8
Some investigators advise caution when prescribing stimulant medications in pediatric patients with anxiety4
Mood disturbances and ADHD7
MAJOR DEPRESSIVE DISORDER (MDD)
Shared Features
Distractibility
Poor concentration
Low frustration tolerance
Differential Distinguishers
ADHD: disturbance in mood is characterized by irritability rather than sadness or loss of interest
MDD: poor concentration in mood disorders becomes prominent only during a depressive episode
Key Facts
Additional symptoms distinguishing primary depression from ADHD include sleep dysfunction, anhedonia, and feelings of low self-worth
Shared Features
Labile mood
Difficulty modulating emotions
Attempting risky/dangerous feats
Differential Distinguishers
ADHD: children with ADHD may show changes in mood within the same day
BIPOLAR DISORDER: mood changes must last ≥4 days to be a clinical indicator
Key Facts
A diagnosis of bipolar disorder is suggested by extreme mood shifts, prolonged periods of depression or euphoria, or episodic thought disturbances
Bipolar disorder is relatively rare in children and adolescents; anger and irritability associated with ADHD are far more common
Shared Features
Restlessness
Difficulty focusing
Differential Distinguishers
ADHD: restlessness is not typically associated with worry or ruminations
ANXIETY DISORDER: patients may show excessive worry/panic in the face of everyday stressors and somatic issues (stomachaches, muscle tension)
Key Facts
Anxiety disorders are typically persistent, lasting 6 months or more
This table is intended as a quick reference guide only. For full diagnostic criteria, please refer to the American Psychiatric Association's Diagnostic and Statistical Manual of Mental Disorders (DSM–5).
Managing Comorbid Mood Disturbances with Multimodal Treatment
ADHD and psychiatric comorbidities
In patients with ADHD, the presence of psychiatric disorders should be considered in the treatment strategy.1
MDD, bipolar disorder, and anxiety disorder are among the most common comorbid conditions seen with ADHD11
While a combination of therapies may be necessary to treat comorbid conditions in patients with ADHD, it is recommended that mood disturbances be treated first11
Learn more about practice parameters and clinical guidelines for psychotropic medication management in children and adolescents here
Does the overlap of ADHD and mood disturbances suggest a common neurobiologic etiology?
Take a deeper dive into the conversation on managing ADHD with psychiatric comorbidities.
What to consider when incorporating a multimodal treatment plan
A multimodal treatment plan that incorporates a variety of strategies is recommended for patients with ADHD.12,13
Long-term data support combining nonpharmacologic with pharmacologic interventions as more effective in improving outcomes for children and adults with ADHD than either treatment alone.12
For children with ADHD who are preschool age (<6 years old), parent- and/or teacher-administered behavioral therapy is recommended as first-line treatment.13
Examples of successful nonpharmacologic treatment strategies for ADHD are outlined below
As with medication management, a nonpharmacologic treatment approach should be tailored to each patient. Often a combination of strategies may be helpful.12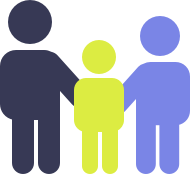 Parent behavior therapy
For young/school-age children with ADHD, behavior therapy for parents can improve not only core symptoms, but also oppositional issues and functional impairment.13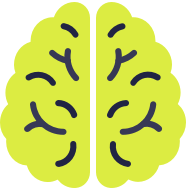 Cognitive behavioral therapy (CBT)
CBT utilizes a skills-based approach to manage ADHD symptoms and achieve behavior modification goals. For adolescents, there is some evidence that CBT interventions are helpful in learning techniques to manage ADHD symptoms—and in building a greater sense of agency over their disorder as they progress to adulthood.14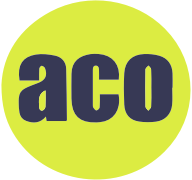 ADHD coaching
ADHD coaches are specialized mental health counselors who help clients develop the skills and strategies they need to achieve their personal goals and reach their full potential.13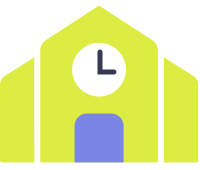 School accommodations
Children with ADHD are entitled to additional help under primary education laws13,15:
Individuals with Disabilities Education Act (IDEA)
Section 504 of the Rehabilitation Act
Every state has a parent technical assistance center that can help parents learn more about their child's rights and ensure they receive an Individualized Education Program (IEP) or Section 504 plan. For more information visit parentcenterhub.org.

The Positive Parenting Program
"Triple P" is one such parent-mediated intervention that aims to improve parent-child interactions and parenting behaviors in order to reduce behavioral issues.16
Common Comorbidities in Comorbid Complex ADHD: Prevalence, Age of Onset, Diagnosis, and Clinical Implications
Dr. Cutler, MS, MD, associate clinical professor in the Department of Psychiatry, SUNY Upstate Medical University in Syracuse, NY, discusses comorbid complex ADHD—prevalence, age of onset, diagnosis and clinical implications.
Hello, I'm Dr. Andrew Cutler, associate clinical professor in the Department of Psychiatry, SUNY Upstate Medical University in Syracuse, New York. And I'm pleased to be discussing comorbid complex ADHD – prevalence, age of onset, diagnosis, and clinical implications.
Comorbid complex ADHD is very common — studies show that three- quarters of individuals with ADHD have at least one psychiatric condition, and 80% of those have more than one comorbidity. 1
But why do people with ADHD have comorbidities? It's possible that one disorder is a precursor to the other (evolving over time), it could be a risk factor for developing the other, or they may have a common genetic basis. Some comorbid disorders (such as depression and anxiety) may develop due to the impact of ADHD, making it a secondary condition. 2,3
The comorbidity profile can change throughout the lifespan. In children and adolescents, studies have shown a high incidence of oppositional defiant disorder, which decreases in adulthood. However, in adults, we see problems with emotional dysregulation, stubbornness, trouble managing anger, and other negative emotions. In addition, those comorbidities that tend to be less common in childhood, such as conduct issues, anxiety, major depressive disorder, and substance use disorder, increase in incidence through adolescence, and into adulthood.
The cumulative burden of comorbid complex ADHD evolves and accumulates throughout the lifespan. For example, although oppositional defiant disorder is the most common comorbidity in children, conduct disorder and anxiety are also seen, with the impact of these, along with ADHD, resulting in low self-esteem in this age group. Moving from childhood into adolescence and adulthood, oppositional defiant disorder and conduct disorder decrease, but criminal behaviors start to show, with antisocial personality disorder becoming more common. In addition, learning delays in childhood develop into complex learning difficulties in adolescence and adulthood. With this progression, people often become demoralized and frustrated, resulting in lack of motivation and under achievement. Substance abuse comes into play as well. 2,4-8Es
The presence of comorbidities in different age groups can complicate the diagnosis of ADHD, as symptoms of these comorbidities often overlap with symptoms of ADHD. For example, ADHD symptoms of restlessness, agitation, difficulty concentrating, and decreased attention are also seen in major depressive disorder, bipolar disorder, anxiety, substance use disorder, and sleep disorders; and the ADHD symptom of impulsivity [activate slide build] is also seen in conduct disorder, bipolar disorder, and substance use disorder. 2,9
So, given the overlap of symptoms of ADHD and its comorbidities, what are the steps to ensure an accurate diagnosis? First, it's important to establish the diagnosis, by confirming that the individual meets DSM-5 criteria for ADHD. Then, you should rule out alternative explanations for the symptoms. Finally, and as we've already talked about, it's important to assess for comorbid conditions, which may affect the treatment of ADHD, as well as the diagnosis. 10
For example, to differentiate ADHD from depression, it is necessary to identify which symptoms of depression overlap with ADHD and which are distinct. Overlapping symptoms include loss of motivation, problems concentrating, and restlessness or irritability. So, if your patient has any of these symptoms, it could be ADHD, depression, or both. However, if your patient has only symptoms of depression that are distinct from ADHD, such as feelings of sadness, thoughts of suicide, or changes in eating or sleeping, it is likely depression. 2
Thank you for being part of this Team ADHD educational presentation.
REFERENCES: 1.Banaschewski T, et al. Attention- Deficit/Hyperactivity Disorder. Dtsch Arztebl Int. 2017;114(9):149-159. 2.CADDRA Canadian ADHD Practice Guidelines 2018. https://www.caddra.ca/wp-content/uploads/CADDRA-Guidelines-4th-Edition_-Feb2018.pdf 3.Pliszka SR. Comorbidity of ADHD with psychiatric disorder: an overview. J Clin Psychiatry. 1998;59:50-58. 4.Turgay A, Ansari R. Major depression with ADHD in children and adolescents. Psychiatry. 2006;3(4)20-37. 5.Goodman DW. ADHD in adults: update for clinicians on diagnosis and assessment. Primary Psychiatry. 2009;16(11):21-30. 6. Faraone SV et al. Attention- deficit/hyperactivity disorder. Nat Rev Dis Primers. 2015;1:1-23. 7.Harpin VA. The effect of ADHD on the life of an individual, their family, and community from preschool to adult life. Arch Dis Child. 2005;90(Suppl I):i2–i7. 8. Biederman J, et al. Adult outcome of ADHD: a controlled 16-year follow up study. J Clin Psychiatry. 2012;73(7):941- 950. 9.Kooij S, et al. Distinguishing comorbidity and successful management of adult ADHD. J Atten Disord. 2012;16:3S-19S. 1. 10. American Academy of Pediatrics. ADHD: Clinical Practice Guideline for the Diagnosis, Evaluation, and Treatment of Attention-Deficit/Hyperactivity Disorder in Children and Adolescents Pediatrics. 2011;128:1007–1022.
Mood disturbances can complicate a diagnosis of ADHD
MDD, BD, and anxiety disorder are among the most common comorbid conditions seen with ADHD11
A multimodal approach to managing comorbid mood disorders and ADHD is recommended13
Stay in the know and access an exclusive ADHD resource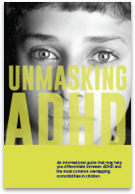 "Unmasking ADHD" can help you differentiate between ADHD and the most common overlapping comorbidities in children.
Reale L, Bartoli B, Cartabia M, et al. Comorbidity prevalence and treatment outcome in children and adolescents with ADHD. Eur Child Adolesc Psychiatry. 2017;26(12):1443-1457.
Faraone SV, Asherson P, Banaschewski T, et al. Attention deficit/hyperactivity disorder. Nat Rev Dis Primers. 2015:1:1–23.
Di Trani M, Di Roma F, Elda A, et al. Comorbid depressive disorders in ADHD: the role of ADHD severity, subtypes and familial psychiatric disorders Psychiatry Investig. 2014;11(2):137-142.
Clemow DB, Bushe C, Mancini M, Ossipov MH, Upadhyaya H. A review of the efficacy of atomoxetine in the treatment of attention-deficit hyperactivity disorder in children and adult patients with common comorbidities. Neuropsychiatr Dis Treat. 2017;13:357-371
Chang Z, D'Onofrio BM, Quinn PD, Lichtenstein P, Larsson H. Medication for attention-deficit/hyperactivity disorder and risk for depression: a nationwide longitudinal cohort study. Biol Psychiatry. 2016;80(12):916-922.
Jerrell JM, McIntyre RS, Mark Park Y-M. Risk factors for incident major depressive disorder in children and adolescents with attention-deficit/hyperactivity disorder. Eur Child Adolesc Psychiatry. 2015;24:65-73.
American Psychiatric Association. Diagnostic and Statistical Manual of Mental Disorders. 5th ed. Washington, DC: American Psychiatric Publishing, Inc.; 2013
Tsang TW, Kohn MR, Efron D, et al. Anxiety in young people with ADHD: clinical and self-report outcomes. J Atten Disord. 2015;19(1):18-26.
Turgay A. A multidimensional approach to medication selection in treatment of children and adolescents with ADHD. Psychiatry. 2007;4(8):46-57.
Sciberras E, Lycett K, Efron D, Mensah F, Gerner B, Hiscock H.Anxiety in children with attention-deficit/hyperactivity disorder. Pediatrics.2014;133:801-808.
Austerman J. ADHD and behavioral disorders: assessment, management, and an update from DSM-5. Cleveland Clinic J Med.2015;82(suppl 1):S2-S7.
Arnold LE, Hodgkins P, CaciH, et al. Effect of treatment modality on long-term outcomes in attention-deficit/hyperactivity disorder. PLoS One. 2015;10(2):e0116407.
Subcommittee on Attention-Deficit/Hyperactivity Disorder, Steering Committee on Quality Improvement Management, Wolraich M, et al. Clinical practice guideline for the diagnosis, evaluation, and treatment of attention-deficit/hyperactivity disorder in children and adolescents: Supplement.Pediatrics.2019;144(4):1-43.
Sprich SE, Burbridge J, Lerner JA, Safren SA. Cognitive-behavioral therapy for ADHD in adolescents: clinical considerations and a case series. Cogn Behav Pract. 2015;22(2):116-126.
Felt BT, Biermann B, Christner JG, Kochhar P, Harrison RV. Diagnosis and management of ADHD in children.Am Fam Physician.2014;90(7):456-464.
Aghebati A, Gharaee B, Shostari MH, Gohari MR. Triple P Positive Parenting Program for mothers of children with ADHD. Iran J Psychiatry Behav Sci. 2014;8(1):59-65